Maastricht is one of the oldest cities in Holland, as you will quickly discover when strolling through the historic inner city. Churches, city walls, monumental merchant houses and big squares merge seamlessly with a comprehensive and varied range of shops.
A place where north and south meet, the crossroads of the three countries that together make up the Euregion Meuse-Rhine.
Currency
In the Netherlands, the currency is the Euro.
Foreign currencies can be exchanged for Euros at banks, airports, major train stations (western union), and major hotels.
All major cards are widely accepted, though in some small shops or hotels, there might an extra charge (2-6%). When paying by credit card for your shopping, you will be asked to show identification. Please have your ID card or passport with you all the time, otherwise they may refuse to accept your credit card as payment.
Time Zone and Weather
Maastricht is in the Central European zone. Central European Standard Time = GMT+1. Central European Summer Time = GMT+2.
Maastricht features the same climate as most of the Netherlands, however, due to its more inland location in between hills, summers tend to be warmer and winters a bit colder.
Useful Numbers
The emergency number for police, fire or ambulance is 112. The pan-European 112 emergency operators will speak English. You will be asked for the address and city where you are calling from and the nature of the emergency.
Plug, socket and voltage in the Netherlands
The power supply in the Netherlands is 220/240 V. Most electric outlets adhere to the continental standard (Schuko). Appliances from North America require a transformer and British ones an adaptor for the two-pin sockets in use in the Netherlands.
Useful Websites
Visit Maastricht: www.visitmaastricht.com
Official guide for visiting Holland: https://www.holland.com/global/tourism.htm
About MECC Maastricht
The congress will take place at the MECC Maastricht, a modern congress centre located near the city centre. What makes MECC Maastricht special is its unique combination of high-quality facilities, excellent services and a great setting.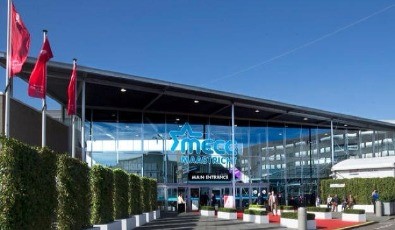 Forum 100,
6229 GV Maastricht,
Netherlands
P: +31 (0) 43 383 83 83
Getting to the venue
By Air
MECC Maastricht is easily accessible by public transport from a large number of airports:

Maastricht-Aachen Airport (15 km)
Eindhoven Airport (100 km)
Brussels Zaventem Airport (120 km)
Brussels Charleroi Airport (120 km)
Düsseldorf Airport (120 km)
Cologne-Bonn Airport (120 km)
Rotterdam The Hague Airport (210 km)
Amsterdam (Schiphol) Airport (220 km)
By Public Transport
MECC Maastricht is a five-minute walk from the Randwyck train station. Travelling by bus? You can plan your journey here!
Maastricht Central Station: 2 minutes by train
Eindhoven Airport: 1 hour 30 minutes
Amsterdam (Schiphol Airport): 2 hours 40 minutes
Brussels Zaventem Airport: 3 hours 20 minutes
Paris Charles de Gaulle Airport: 3 hours 30 minutes
By Car
MECC Maastricht is located just off the A2 motorway and the A79 and has convenient connections to European motorways.
Take the Randwyck/MECC/AZM exit and follow the signs for MECC or MECC Parking.
Covid
All Covid restrictions have been lifted in the Netherlands and therefore masks are no longer mandatory but we encourage all our delegates to use masks within the Venue.
Covid testing for travelling can be booked via the following link:
https://covidtestlimburg.nl/en/
Maastricht has two test locations, however please note that the below location is within walking distance of the MECC.
Maastricht Avenue Ceramique
Avenue Ceramique 175
6222 KX Maastricht